Helicopter ride Melbourne
The city of Melbourne, which is located in Australia and is the country's second-largest in terms of population, is renowned for its lively culture, gorgeous architecture, and picturesque surroundings.
There is no other vantage point from which to appreciate the splendor of this metropolis other than from above.
Check out our Comprehensive post on Heli Rides 🚁FIRST-TIME Helicopter Ride – All things you need to know
A ride in a helicopter in Melbourne is an experience that only comes along once in a lifetime; it gives spectacular vistas and creates memories that will last a lifetime.
This detailed guide will assist you in organizing the ideal airborne trip by providing information on everything from the leading companies that offer helicopter tours to the most important landmarks that you simply cannot afford to miss.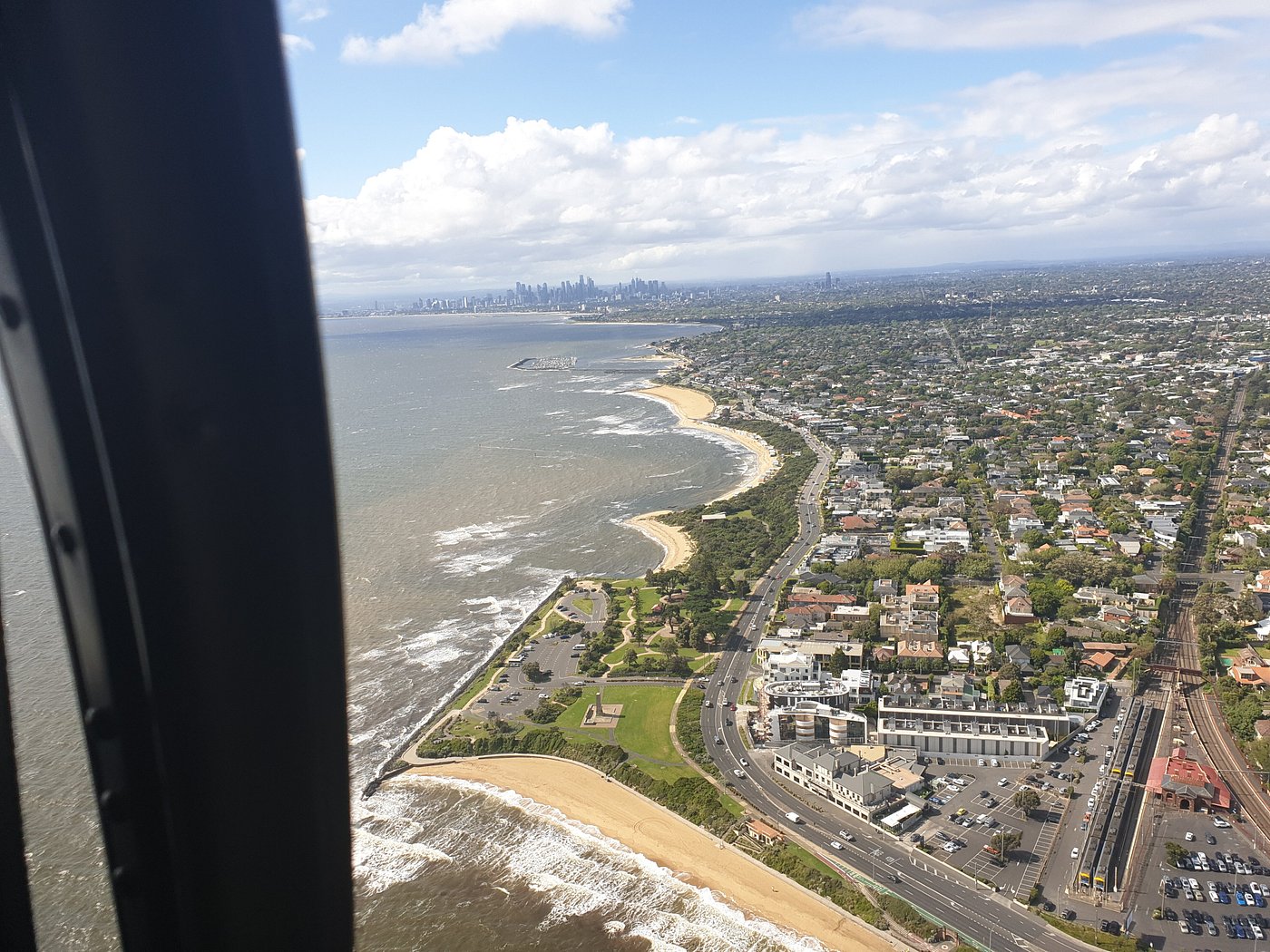 Why Choose a Helicopter Ride in Melbourne?
A helicopter ride in Melbourne is an exciting and unique way to explore the city and its surroundings. From the comfort of your helicopter, you'll be able to:
Witness panoramic views of the Melbourne skyline, including landmarks like the Eureka Tower, Federation Square, and the MCG.
Soar over the stunning coastline and take in the beauty of Port Phillip Bay, the Great Ocean Road, and the Twelve Apostles.
Enjoy a bird's-eye view of the lush Yarra Valley and its world-renowned vineyards.
The Best Helicopter Tour Providers in Melbourne
To ensure a top-notch experience, it's crucial to choose a reliable and professional helicopter tour provider. Here are three of the best options in Melbourne:
Microflite: This premium provider offers a wide range of helicopter tours, from city sightseeing flights to custom-designed experiences. Their modern fleet and skilled pilots guarantee a safe and enjoyable ride.
Heli-Serv: Heli-Serv is known for its personalized service and exceptional safety record. They offer a variety of helicopter tours, including scenic flights and tailored experiences.
Professional Helicopter Services (PHS): With over 30 years of experience, PHS is a trusted provider of helicopter tours in Melbourne. They offer a range of flights, from city tours to extended adventures across Victoria.
Top Sights to See on a Melbourne Helicopter Ride
A helicopter ride in Melbourne promises breathtaking views of numerous iconic landmarks and attractions, including:
Melbourne CBD: Marvel at the city's unique architecture and vibrant atmosphere.
Eureka Tower: Get a close-up look at the tallest building in Melbourne.
Melbourne Cricket Ground (MCG): Fly over this legendary sports venue, which has hosted countless iconic events.
Royal Botanic Gardens: Soar above this lush oasis, home to a vast collection of native and exotic plants.
Port Phillip Bay: Enjoy the stunning vistas of this beautiful bay, its beaches, and the surrounding coastline.
Helicopter Ride Duration and Cost
Helicopter rides in Melbourne typically range from 15-minute city flights to full-day adventures. Prices vary depending on the tour provider, duration, and inclusions. Here's a general guide to help you plan your budget:
15-minute city flights: $200 – $250 per person
30-minute city and coastal flights: $350 – $450 per person
1-hour Yarra Valley or Great Ocean Road flights: $700 – $900 per person
Customized experiences and extended tours: Prices vary depending on the itinerary and inclusions
Booking Your Helicopter Ride
Booking your Melbourne helicopter ride is simple and convenient. Most tour providers offer online booking systems, allowing you to choose your preferred date, time, and package. Keep in mind that helicopter rides are weather-dependent, so it's a good idea to have some flexibility with your schedule.
TripAdvisor is a convenient online platform for booking helicopter rides. The platform provides easy comparison of tours, prices, and availability, often with exclusive deals or discounts.
Safety and Regulations
Helicopter tour providers in Melbourne are subject to strict safety regulations and guidelines. When booking your flight, ensure that the provider holds a valid Air Operator's Certificate (A OC) and has a strong safety record. Prior to your flight, you'll receive a comprehensive safety briefing, and all passengers are required to wear seatbelts during the ride.
What to Wear and Bring on Your Helicopter Ride
To make the most of your helicopter ride in Melbourne, it's essential to dress comfortably and bring the right accessories:
Wear sunglasses to protect your eyes from glare and ensure clear visibility.
Wear comfortable clothing that's suitable for the weather. Avoid loose or flowy garments, as they can obstruct the view or get caught in the rotor.
If you're prone to motion sickness, consider taking medication before your flight.
Bring a camera or smartphone to capture stunning photos and videos of your experience.
Private and Group Tours
Melbourne helicopter tour providers offer a range of options to suit different preferences and budgets:
Group tours: If you're traveling with friends or family, group tours can be a cost-effective way to share the experience. Some providers offer discounts for larger groups.
Private tours: Perfect for special occasions or a more intimate experience, private helicopter tours can be tailored to your specific interests and requirements.
Special Occasions and Gift Vouchers
A helicopter ride in Melbourne can make a memorable gift or a unique way to celebrate a special occasion, such as:
Birthdays
Anniversaries
Engagements or proposals
Corporate events
Graduations
Many tour providers offer gift vouchers, which can be an excellent present for thrill-seekers and adventure enthusiasts.
Combining Your Helicopter Ride with Other Activities
To make your Melbourne adventure even more memorable, consider combining your helicopter ride with other exciting activities, such as:
Wine tasting in the Yarra Valley
A visit to the Twelve Apostles and the Great Ocean Road
A luxury lunch or dinner at a top Melbourne restaurant
A hot air balloon ride over the city or countryside
Many tour providers offer package deals that include helicopter flights and additional experiences, ensuring a seamless and unforgettable adventure.
Wrapping up
A ride in a helicopter in Melbourne is an amazing opportunity to see the city and the stunning scenery that surrounds it from a vantage point that is entirely your own.
You will have no trouble finding the ideal aerial adventure that caters to both your interests and your spending limits thanks to the numerous tour operators, attractions, and packages from which to pick.
So fasten your seatbelts, get ready to take to the air, and prepare to make memories that will last a lifetime as you soar above the gorgeous landscapes and famous monuments of Melbourne.
Adventure & Outdoor Activities Blogger at Outdoor Fizz
Bobby Loves Outdoor adventures like Parasailing, paragliding, Bridge Climbing, Sledding & Skiing, and Biking and leads an active Life. Plus, he loves Road tripping & Blogging in his free time.